Welcome back to teatime!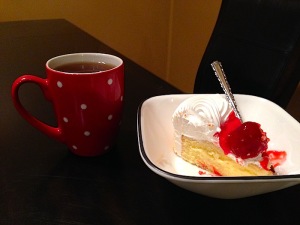 This Teatime Tuesday is brought to you courtesy of Mother's Day. My sister and I purchased a strawberry cake from our local grocery store for my mom to try. (She's allergic to chocolate, unfortunately, so she's always looking for tasty fruit-topped desserts like this one!) She was kind enough to share it with everyone in my family, so we all sampled a piece. Naturally, I decided to pair my slice with some tea.
For my tea, I chose a flavored one called Vanilla Rose Ceylon, courtesy of Flying Bird Botanicals. They're a smaller tea company with a lot of interesting blends. I first discovered them while on vacation in Sedona, where a local store had some of their teas in stock. This particular blend is very well-balanced, with a strong black tea base and a subtle rose flavor, which is softened nicely by the vanilla. It's a perfect tea for Mother's Day, feminine and a little sweet.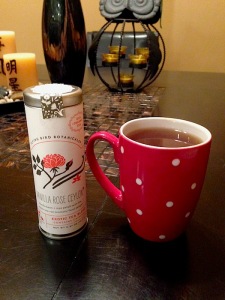 As always, thanks for joining me for tea!