Welcome back to Teatime Tuesday! And thank you for your patience with last week's delays.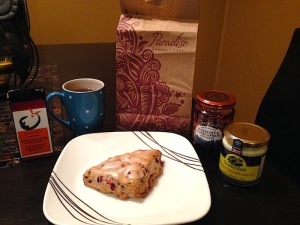 Today's tea was fairly typical for me. For my afternoon treat, I had a Triple Berry scone from Paradise Bakery. (I'm not actually sure which three berries were used in the recipe! I even checked their website, but couldn't find the answer. I'll have to ask them next time.) It had a sweet glaze on top, so it felt a little redundant to add jam and clotted cream–but I went ahead and did it anyway.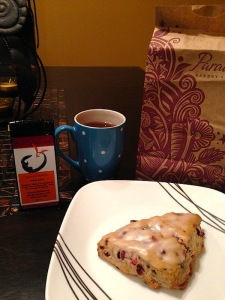 For my tea, I steeped up a cup of Sansia Black, purchased from Butiki Teas (which is now closed, sadly). Sansia Black is very smooth, especially for a straight black tea, and it has a honey-like undertone to it. As I'd hoped, the honey notes went really well with the sweetness of the scone.
Thanks for joining me for tea!