Welcome back to Teatime Tuesday!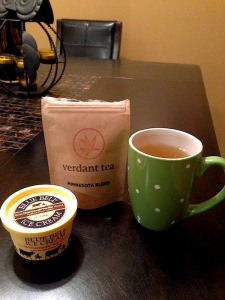 I'm keeping it simple this week. For my tea, I'm drinking a special limited blend by my favorite tea company, Verdant Tea. (This comes as no surprise, since I've been drinking so many of their teas lately!) It's called Minnesota Blend, and it's a green tea flavored with vanilla, toasted rice, saffron, and juniper berries. It has a very smooth taste, with a muted sweetness that goes well with the base tea.
To complement the vanilla flavors in the tea, I decided to pair it with some vanilla ice cream. Nothing too fancy, but who can complain about ice cream? (Not me, certainly!)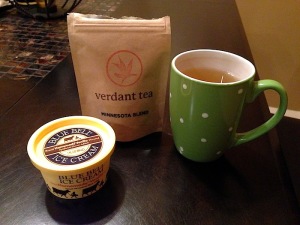 That's it for teatime! Thanks for joining me once again.