(Technically, this is Teatime Thursday, but for the sake of consistency I decided to keep the usual title.) Welcome back to teatime!
Today I prepared a cup of Verdant Tea's most famous tea, Laoshan Black, which is also one of my all-time favorites. It's a straight black tea with lots of flavor, and an interesting savory quality to it, which makes it stand out among the sweeter teas in my cabinet.
To go with the tea, I had an apple turnover from the bakery at my local supermarket. It was extra sweet with lots of sugar, so it made a great complement to the savory flavors in the Laoshan Black.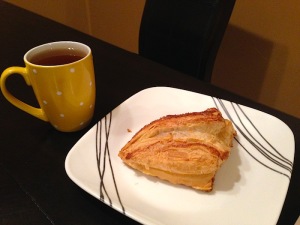 Thanks for joining me for tea!