Hello again! I'm pleased to say I survived the cold/flu/plague I contracted during Christmas, in the grand tradition of getting sick on holidays. And I've come out no worse for the wear, save for a chapped nose. With that said, onward to teatime!
Today I'm doing it up old school, with some jam-filled shortbread cookies from Wolferman's, and tea from Harney & Sons.
Harney & Sons is a pretty famous tea company—so famous that they provide tea for the Historic Royal Palaces of England, with blends inspired by imperial English history. Which brings us to Tower of London, today's tea blend. It's a black tea mixed with stone fruit, bergamot, and honey flavors. Very English, very Elizabethan, and a fitting tribute to the Tower. Plus the sweet jam notes go well with the buttery shortbread cookies.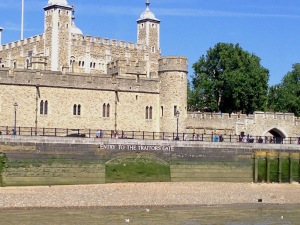 Incidentally, if you're ever in London, make sure you take a day to visit the Tower. It's spooky and old and beautiful. The first time I visited England, I spent two whole days there, climbing up and down stairs and taking photographs in the vain hope that a few ghosts would show up on my film. (This was back in the ancient days before camera phones.) And where else can you find so many stories about princesses, traitors, and tortured spirits? It's the very definition of Romantic. (Which admittedly is kind of my thing, but still. Ravens! Prisoners! Beheadings! What's not to like? And did I mention the supreme bling that is the Crown Jewels?)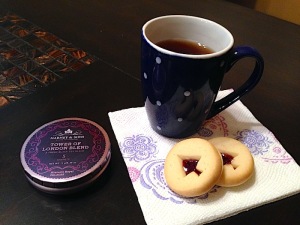 Well, that's it for today's ultra-English teatime. Thanks for joining me!