About a week ago, I purchased a bunch of new teas. The last of them to arrive was my order from Tealeaves. I was first introduced to the company during afternoon tea at the Grand Floridian Resort in Disney World (which I definitely recommend). I enjoyed the teas there, so I went on a hunt to find where I could purchase them. Turns out, Tealeaves is a luxury tea supplier for fancy hotels, but you can also order their teas online.
Today I'm sampling their Ginger Peach black tea. I've been searching for a nice tea with this flavor combination, so I'm looking forward to it.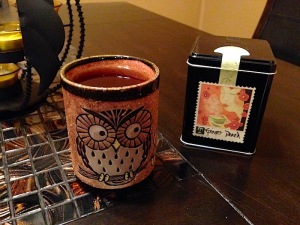 I really like their tins! I'm also trying out the teacup for the first time. (Oddly enough, I also got it at Disney World, in the Japanese department store at EPCOT. I thought the owl was cute, and the colors seem appropriate for the season.)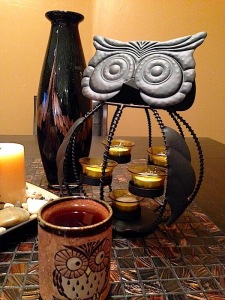 Just for fun, a shot of the cup next to the owl-shaped candleholder on my kitchen table. As you can see, I have a bit of an obsession with owls… Which reminds me, I haven't talked about that on the blog yet! Maybe that will be my next post? (It's a long-ish story, about writing and inspiration and the occasional weird coincidence.)
Anyway, to get back to the tea, this Ginger Peach is delicious! The peach flavor is soft and fuzzy, and the ginger is subtle, adding a spicy tingle to the brew. I love the taste of ginger in tea. It's soothing and warms your whole mouth, which is great for cooler weather. (Also, I don't know why, but it seems this particular flavor of tea goes extra well with food! Good news for people like me, who enjoy having the occasional cup of tea with dinner.) I'm glad I got a whole tin of this, instead of the smaller sample size.
Thanks for joining me!